How much yarn do I need? What size and kind?
How much yarn do I need?
The amount of yarn needed to create a rug depends on how close your tufting lines are and the size of the pile height.
For example;
If you are using an AK-I cut pile tufting machine that is set for .47 inches (12 mm) tall pile height, you'll use 8 ounces (.22 kg) per square foot (30cm x 30cm).
The length of yarn on each 1 lb (16 oz) cone is 31 yards per ounce (1.28 meters per gram) which is approximately 496 yards per cone.
It's best to have too much of a color than to run out, especially since our wool yarn is dyed in batches and has some variation. We advise feeding two strands of yarn into your machine while tufting. And purchasing an extra cone or two of the color you like will allow for errors and mistakes.
What Size and Kind of Yarn Can I Use?
The tufting guns can handle a wide variety of yarns in many weights depending on the result you're looking for. Multiple yarns can also be put through the gun to create a thicker pile or striated affect. Keep in mind that thinner yarns run through the gun by themselves will create a thinner pile and the backing cloth will be seen. This can be adjusted by speeding up the gun itself or putting more strands of yarn into the machine.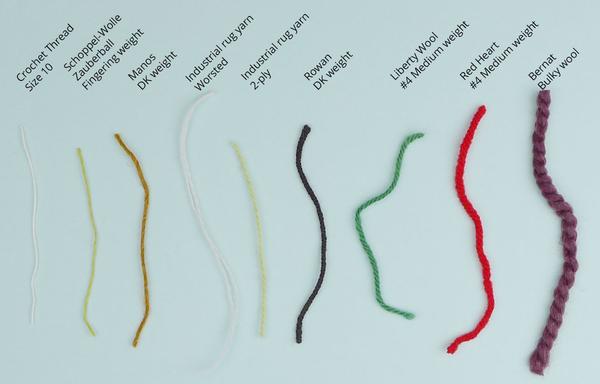 ---
---